Our Normal Ayurvedic Treatments
The Ayurvedic treatments are done by expert therapists in hygienic treatment rooms. Male therapists cater to male patients while female therapists cater to the needs of the female patients. Marma is done along with these treatments only by the chief physician because it requires years of practice. The various Ayurvedic treatments are:
1. Kizhi
Known as fomentation therapy .different types of herbal leaves or medicinal leaves along with herbal powders and seeds and coconut fried together to make bundle in a cotton cloth is used in this therapy. The types of medicines selected depends on condition of the person. This therapy helps to open up tissues improving circulation and is very useful for reducing pain and inflammation. This treatment is done from five to seven days.
2. Pizhichil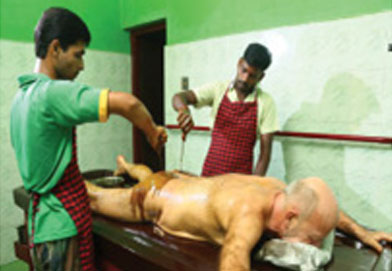 Here warm medicated herbal oil is gently squeezed all over the body with a piece of cloth soaked in oil periodicaly. The body is massaged mildly along with application of oil. The warmth of oil and massage enhances the blood circulation and energizes the body. It is effective in the treatment of arthritis, hypertension, asthma and various sexual weaknesses.
3. Njavara
Njavara is a special variety of rice grown in Kerala , having many medicinal values.
It is a procedure by which the whole body or any specific part is made to perspire , by the application of certain medicinal drugs with Njavara rice puddings externally in the form of boluses tied up in a cotton bag. In Njavarakizhi special massage is given to the body with cotton bloluses filled with njavara rice cooked in milk and medicines The benefits include cure of rheumatic and arthritic difficulties ,skin ailments, neurological problems and rejuvenation .Njavra rice has a special place in beauty therapies of Ayurveda.
4. Sirodhara
The centre of forehead had special significance in process of healing a developing spiritual attitude which helps to soothen the mind and body. Sirodhara ,in which warm medicated oil or medicated buttermilk is poured gently on the forehead is based in this concept. Sirodhara helps in relaxing the nervous system ,which helps in reducing anxiety and improves brain function. Thus it become inevitable treatment in rejuvenation therapy.
5. Marma Abhyangam
Marmas are vital energy(prana) centres of our body which forms an important part in healing process. Marma Abhyangam which differences from general Ayurvedic massage includes stimulating and energizing these energy points. This system has its origin in the traditional Kalaripayattu system of kerala. Marma abhyangam can be applied as a routine in preventive aspect plus it is effective in healing many of the chronic ailments.
6. Yoga
Yoga which is considered as science of healthy living helps one to be in harmony with life.
It is a physical, mental, emotional, intellectual and spiritual practice which helps one to elevate from lower levels of consciousness to higher levels. Yoga practice helps to improve general health and it is also useful for improving immunity.
Yogasanas are highly beneficial for the treatment of various lifestyle disorders like obesity, diabetes, blood pressure etc. Various practices like pranayama and meditation are very effective for reducing stress and tensions of daily life.
7. Panchakarma
Panchakarma includes five detoxification and purification treatments, which helps to eliminate toxins from the body.

7.1 Vamanam:
Vamanam is therapeutic vomiting in which the patient is administered certain medicines to induce vomiting. This therapy is suitable for treating sinus problems, indigestion, cough and cold and skin diseases.
7.2 Virechanam:
This procedure is mainly meant to flush out body toxins by making the person to undergo controlled purgation. It is administered in skin and liver disorders,
7.3 Nasyam:
Nasyam is administered through the nasal passages with medicated herbal oil, herbal juices or herbal powder. This treatment is very effective in treating a number of ailments pertaining to head, neck and shoulder region. It is useful in the treatment of various types of head aches, sinus problems, eye diseases, neck and shoulder pain etc.
7.4 Sneha Vasti:
In Sneha Vasti medicated ghee or herbal oil is administered through anal orifice. Usually this is given after a light food and gentle body massage with herbal oil. It helps to alleviate vata disorders and enhances general immunity of the person.
7.5 Kashaya vasti:
In Kashaya Vasti, medicine is prepared with honey, rock salt and decoctions made of herbs. It is administered through anal orifice after body massage and warming of abdomen. It is used in detox therapy and in the management of neurological ailments,constipation, back aches and gastric problems.
8. Udwardhanam
This includes use of herbal medicated powder in massaging. Here the massaging goes in the opposite direction(Prathiloma) as compared to the conventional method .This is used in treating obesity,rheumatoid arthritis, skin diseases, high cholesterol etc conditions. Udwarthanam helps to remove toxins from the body and so helps in fat reduction. It is also effective for removing dead skin and thereby improving the complexion of the body.
9. Kativasti
Highly effective treatment for all spinal disorders in which warm medicated herbal oil is made to retain in a herbal paste boundary in the back. Helps in relieving chronic back aches, Sciatica, disc prolapse etc.
10. Karna pooranam
Here the ears are bathed in warm medicated herbal oil. Prior to this the head and neck are given a massage followed by gentle ear massage after the treatment. It is effective for hearing problems, pus discharge from ears, tinnitus and good for stimulating nervous system.
11. Upanaham
Effective for swelling and relieving the pain associated with it, upanaham is done by applying a herbal paste over the affected area, covering it with medicinal leaves and bandaging with a cotton cloth. Upanaham is found effective in osteoarthritis and localized pain and swelling.
12. Swedanam
Swedanam which is commonly called steam bath is done usually followed by Abhyangam. Swedanam has a significant part in the detoxification treatment as it opens the pores of skin and helps the body to eliminate toxins through sweating. Excess adipose tissues are get reduced leaving the skin more healthy and glowing. This is also an inevitable treatment in slimming therapy.
13. Snehapanam
In Snehapanam the patient is given medicated ghee or oil orally  for a particular number of days, in specific quantity, which depends on the health of  the patient and the nature of disease. This is done with strict dietary regulations .It is effective for skin ailments like psoriasis, gastroenterological problems, ulcers, degenerative conditions etc .
Book a Telephonic Consultation with the Chief Physician
Book a Telephonic Consultation with the Chief Physician
I have been coming to Marmmayogi since 15 years for my rare problem of Myasthenia gravis. I have been following only Ayurveda for this condition, and have found great benefit from Dr Manoj in living a comfortable life.
I came to Marmmayogi for a neurological problem which indicates the starting of Parkinsons. Dr Manoj helped greatly in the treatment and making me comfortable in my stay here. Food and water was good. I now understand the Ayurveda way of life.
I did a 10 day treatment for my Neck and Spine problem, for my Sports Shooting career. It is almost cured now. I also learnt Marma Yoga for increasing my concentration for Shooting sessions.